My transition to European time has never been easier than on this trip.  Maybe it has something to do with the fact that I haven't trained in a week and there's no racing pressure (my gut is still on the mend).  Don and Jim think it's because of the relaxed company.  Whatever the case, it was an ideal first day of the trip spent exploring the Engadin valley.
Sonne means "Sun" in German and the view this morning from Hotel Sonne was just that.  Does it get any better to waking up to a view like this?
Yeah, actually, walking downstairs and finding a breakfast like this!
It wasn't hard to eat a big breakfast for the day ahead.  Some bikers are known to measure their training in "chamois time;" that is, how much time they have spent in their bike shorts.  "Boot time" would be a little more appropriate for us today.  We skied a full 25km from St Moritz to the finish of the Engadin in S-chanf.  That's not bad, but the fact that it took us over 6 hours?  Just logging some boot time.
"It's all downhill from here!"  – Don show's us the course profile for the Engadin.
Don Becker is a disability lawyer from Madison and a big enthusiast of cross country skiing.  He supports a variety of causes and events from the food bank in Madison, to the Badger Women's Hockey Team to the Birkie and the CXC Team.  His current project is adaptive skiing, more specifically: getting sit-skis into the hands of as many people as possible.  To date, he has helped design, manufacture, and distribute over 250 sit-skis—making cross country skiing more accessible to everyone.  Don's sit-skis are fully adjustable and can be found for rental free-of-charge at most Nordic ski areas in North America.  Today, Don met Martin, a sit-skier from here in Switzerland, out on the trail.  Expect to see a batch of sit-skis coming to Europe soon. . .
Of course, the tracks were fast and bomb-proof.  By the time we hit Zuos, we'd worked up quite the appetite and were ready for lunch.  The sun terrace at the restaurant in Zuos was exactly what we needed.  Scnitzel mit Pommefrites and a Rivella helped us recharge for the final 5km to the finish.  We were joined by Rose, a Worldloppet skier from England we'd met on the trail earlier.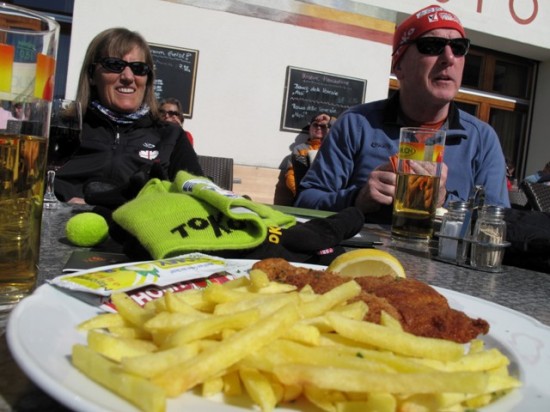 In case anyone forgot, Don reminded us once again today, who is number one.  He made the final pass coming into the stadium and used some aggressive rugby tactics to fend off a hard charging Michler.
We were entertained by a couple of Swiss skaters while we waited for the train to take us back to our hotel in St Moritz.  Did I mention it was t-shirt weather?  Hopp Schweiz!
buy albuterol inhaler,buy combigan online,buy chantix,buy voltaren gel online
Garrott Kuzzy