One week after World Championships ended in Falun, Sweden, there wasn't much time for rest for those headed into this weekend's World Cup in Lahti, Finland. All the big names entered in the 1.5-kilometer freestyle sprint trying to get valuable International Ski Federation (FIS) points as the season winds down.
Heading into Saturday's sprint, Norway's Finn Hågen Krogh was leading the overall Sprint World Cup with 398 points, ahead of Federico Pellegrino from Italy who had 356 points and Alexey Petukhov from Russia with 284 points. However, none of the top-three point leaders was a factor Saturday, opening the door for Norway's Eirik Brandsdal, sitting in fourth, to gain valuable points and move up in the season-long sprint competition.
The 1.5 k course in Lahti was very technical compared to the courses the competitors have faced this season. It was a mixture of hills and tricky turns that took their toll on some big-name competitors. Norway seemed to fare the worse, as Martin Johnsrud Sundby, Ola Vigen Hattestad, Sondre Turvoll Fossli, and Petter Northug all fell during Saturday's sprint. Northug had a moment he probably would like to forget, falling flat on his face at the start of his semifinal heat.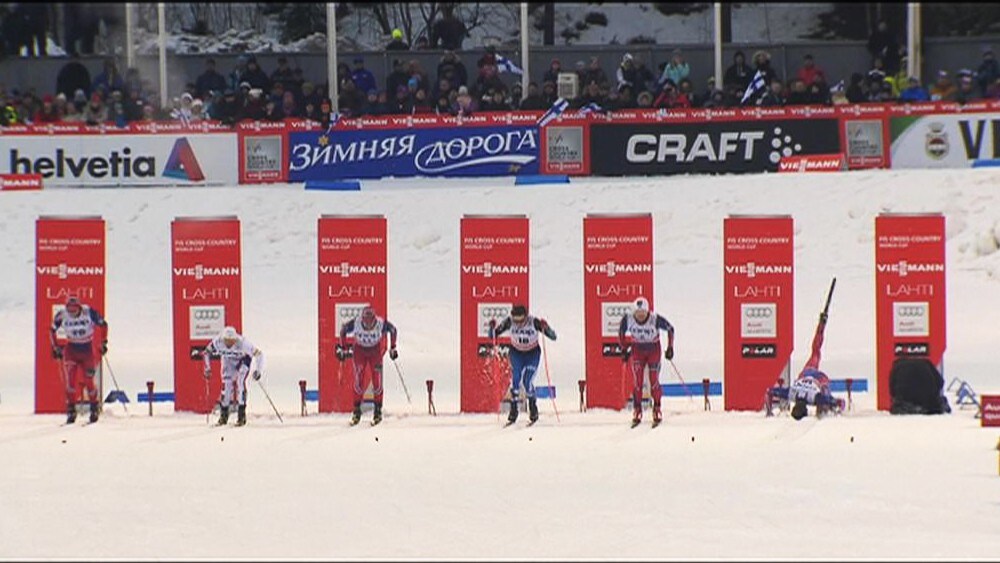 Krogh was relegated during his semifinal for a rules violation and thus didn't advance to the final.
Throughout the rounds, Brandsdal was very consistent in his strategy, getting out in front and staying out of trouble.
"I knew there were some issues with soft snow on the course and I wanted to be in front of the heat and I managed to control my heats," he told FIS.
After Sweden's Johan Edin won the qualifier in 2:41.14, Brandsdal qualified second, 0.19 seconds back, and Krogh posted the third-fastest time (+1.44). Andy Newell was the lone North American to make the heats, qualifying in 13th (+3.02). Fellow U.S. Ski Team member Simi Hamilton missed advancing in 33rd, 0.32 seconds out of 30th. Also racing in the stars and stripes, Dakota Blackhorse-von Jess placed 55th in the qualifier and Erik Bjornsen was 57th.
Among the Canadians, Lenny Valjas finished 48th, Alex Harvey placed 63rd, Jess Cockney was 68th, and Micheal Somppi 74th.
Northug qualified in 10th and went on to win the first quarterfinal in 2:42.22, ahead of Finland's Martti Jylhä in second (+0.42). The second quarterfinal featured Norway's Sindre Bjørnestad Skar, who won in 2:40.71, and Brandsdal (+0.15) advancing. Newell topped the third quarterfinal in 2:39.80, ahead of Norway's Håvard Solås Taugbøl (+0.12). France's Richard Jouve won the fourth quarterfinal in 2:42.27, over Norway's Anders Gløersen (+0.40), and another Frenchman, Baptiste Gros won the fifth quarterfinal in 2:40.35, while Edin advanced in second (+0.48). The lucky losers were Norway's Mathias Rundgreen and France's Renaud Jay.
Brandsdal went on to win his semifinal in 2:42.88, and Skar finished 0.18 seconds back in second.  Jouve topped the second semifinal in 2:41.90, edging Taugbøl in a photo finish, while Jay and Gros in third (+0.22) and fourth (+0.14) made the final as well as lucky losers from that heat.
Newell Makes Semis for Season Best
Newell narrowly missed advancing to the finals, finishing fourth in the first semifinal, 0.46 seconds behind Brandsdal and 0.12 seconds after Rundgreen, who was third. He ended the day in eighth overall for his best result of the season.
"I'm finally feel like myself again sprinting so I'm excited for that," Newell told USSA. "I really felt like I belonged in the final today, and it's a good feeling to be back at that level."
It was the first time Newell had made the semifinals this season after posting a previous best of 12th in the World Cup classic sprint on Feb. 14 in Östersund, Sweden. There, he placed third in his quarterfinal to miss the semifinals by one place.
Earlier in the day, Newell had qualified in 13th. He wrote in an email to FasterSkier that the fast course made qualifiers especially fun.
"There are always a ton of skiers here at these World Cups so it can be a competitive field to qualify in," he wrote.
In terms of strategy on Saturday, Newell said he noticed several skiers were "sitting back and trying to attack the last half of the race.
"That became my strategy and it worked out perfectly in the quarters and I was able to come in to the lead in the stadium and win the heat," he explained. "I tried to do the same thing in the semis, but the pack was just a little too tight and wasn't able to slighshot into the top two in the stadium."
"I'm happy with eighth but really felt good enough for the podium," he wrote. "But most of all I'm stoked to be feeling much better at the end of the season than I did in the beginning.
A Norway-France Final Showdown
The final featured three Norwegians; Brandsdal, Skar and Taugbøl matched up against three Frenchmen: Jouve, Gros and Jay.
Out of this unique final matchup, featuring three Norwegians and three Frenchmen, Brandsdal had the most experience, after recording a podium in Davos, Switzerland, and winning the World Cup opener in Kuusamo, Finland, at the start of this season.
At the start, Brandsdal double poled his way into the lead and never lost it. He was followed closely behind by Skar, who was also racing for a personal-best finish. As the race unfolded, it was shaping up to be an all-Norwegian podium. With the three Norwegians skiing together, Skar and Taugbøl worked for Brandsdal to keep the French off the podium. The wall was finally broken about 200 meters from the finish when Jouve was able to glide past Taugbøl and into the top three.
Brandsdal crossed the line first to win in 2.42.75, Skar was 0.21 seconds back in second, and Jouve finished 0.52 seconds behind in third. These were personal-best finishes for Skar and Jouve.
"My goal today was to make it to the finals for the first time in my career," Skar told reporters. "To finish on the podium in second place is pretty cool. I skied behind Eirik in the quarterfinal and semifinal. I managed to stay out of trouble also in the final."
A relative newcomer, Jouve, 20, has only competed in two other World Cups, both classic sprints, where he finished 49th in Otepää and 19th in Östersund earlier this season.
"It was a very good day for me. I am very happy for third place," Jouve told FIS. "It was my third World Cup appearance in my career and I did not expect this to happen. I am very proud to be on the podium. I felt very good in the qualification."
As a result of his win on Saturday and the 100 FIS points that go along with it, Brandsdal has moved into third overall in the Sprint World Cup. Krogh still leads with 399 points, Pellegrino is 33 points behind in second and Brandsdal 57 points back in third.
There is only one sprint race left this season, a classic sprint on Wednesday in Drammen, Norway.
Notes:
There was a change to how the athletes were ranked for their qualification heats. FIS tested a new system this week and plans on doing it in next week's classic sprint as well, in which qualified athletes choose their own quarterfinal matchups. The athletes ranked in the first top 11 positions after qualifying select their heat matchups first in reverse order, meaning the 11th-fastest qualifier selects first and the top qualifier selects their position last of that group. The athletes in 12th through 30th select the remaining quarterfinal positions in numerical order.
buy albuterol inhaler,buy combigan online,buy chantix,buy voltaren gel online
Vince Rosetta